8 Of The UK's Best Theme Parks
Published 16th May 2023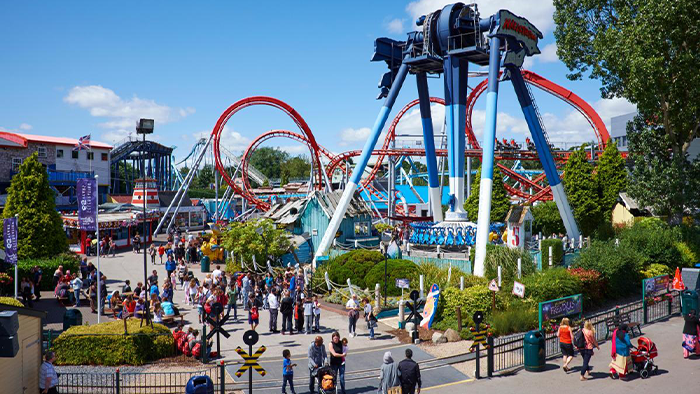 There has been an explosion in the number of theme parks globally in recent years, each of them aiming to outdo the others in terms of both adrenaline rushes and spectacular staging. And every time one opens a new ground-breaking attraction, other parks tend to follow suit.
With summer fast approaching, we've put together 8 Of The UK's Best Theme Parks for you to visit in
Alton Towers, Staffordshire 
Most people regard Alton Towers as one of the "best parks in the world". It's hard to disagree when the park has so many world-class rides that set the standard for other amusement parks in the UK. For a lot of Brits' its their first experience of a Major theme park and is likely to spark a lifelong affair with  high-adrenaline thrill rides.
Situated within Staffordshire, the easy to reach park offers just about everything you could want from a family fun packed weekend away from the monstrous nemesis and wicker man ride to CBeebies land for the youngsters.
Ticket costs start around £34:
altontowers.com

Thorpe Park Resort, Chertsey 
With some of the biggest, fastest rides in Europe, Thorpe Park is another winner for those looking for white knuckle thrills and is said to be aimed more at an adult audience  amongst critics and enthusiasts. The terrifying 
Saw – The Ride
 has a 'beyond vertical' 100 degree drop; the eye-poppingly fast 
Stealth
 is anything but, going from 0 to 130kph in 1.9 seconds; and 
The Swarm
 ominously suspends riders upside down before a dive drop that gives way to 90 seconds of frantic dodging.
Thorpe Park is definitely one to be adding to your list for a group outing or trip.
Ticket costs start around £39:
thorpepark.com

Blackpool Pleasure Beach, Lancashire
The summer's the perfect time to visit the seaside city of Blackpool, home of the UK's first double-launch coaster 
ICON
 cost over £16m to build and once it's open to the public it'll be the fastest at the old park. Still standing is the iconic structure 
The Big One
 – the tallest in the UK – as well as The Big Dipper and the Grand National, wooden coasters that have stood since the 1930s. Kids will love Nickelodeon land and Wallace & Gromit: The Thrill-O-Matic.
Ticket costs start around £32 for adults and £28 for under 11s. Save money with advance tickets.
blackpoolpleasurebeach.com

Drayton Manor, Tamworth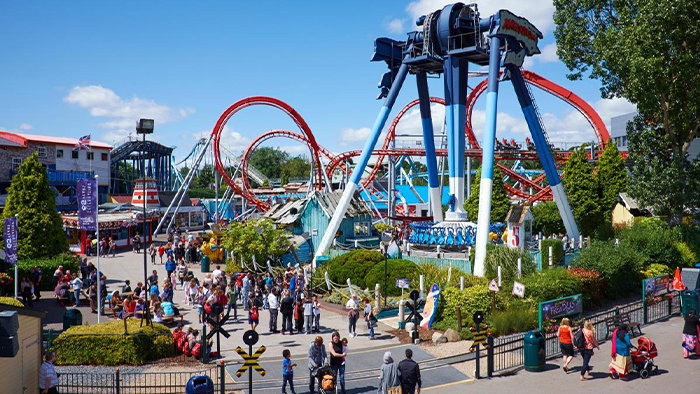 The Shockwave, Europe's only stand up coaster, and the five-sided 54-metre drop tower Apocalypse are the headline attractions at Drayton Manor, just east of Birmingham. There's far more to see at the park though, like the Tamarin Trail, which allows visitors to come face-to-face with mischievous marmosets. Fans of Thomas the Tank Engine are in luck too: Drayton Manor is home to Thomas Land, with all your favourite fictional locomotive characters represented.
Advance tickets for Drayton Manor start from £28.50 for over 12s, and from £24.50 for under 12s and from £26.50 over 60s:
draytonmanor.co.uk
Chessington World of Adventures, Chessington
Covering all the bases, Chessington World of Adventures is a theme park, a zoo and a sea life centre, with a Go Ape to for good measure. There are 40 attractions over 10 lands, and while the rides are on the tamer end of the spectrum the Vampire and the Gruffalo River Ride Adventure are hugely popular with kids looking for big thrills on a small scale. You can get up close to over 1000 animals too, from lions and tigers to gorillas and monkeys.
Advance tickets for Chessington World of Adventures start at £25.
www.chessington.com
LEGOLAND, Windsor
Lego is loved the world over by kids and parents alike, with the toys, video games and movies all contributing to it's enduring popularity. Still going strong is the theme park too, with 
Legoland Windsor
 attracting millions of visitors every year. It's split into twelve lands, with educational and entertaining attractions, restaurant and shops to peruse.
Tickets for Legoland Windsor start at around £26.
legoland.co.uk
Flamingo Land, Yorkshire
Wild animals, wilder rides' is the motto at Flamingo Land, located just outside the North Yorkshire village of Kirby Misperton. The park has 'extreme rides', such as Mumbo Jumbo, Pterodactyl and and the white-knuckle Hero, but amongst all the chaos there's a range fun family attractions, with the spinning Twistosaurus and the wet and wild Splash Battle. What sets the park apart is its conservation element, which began with flamingos but now sees another 129 creatures calling it home.
Tickets for Flamingo Land start at £33.
flamingoland.co.uk
Paultons Park, Romsey
With over 70 rides and attractions including the world's first Peppa Pig World, Paultons Park is another favourite for a family day out. Just north of Southampton on the south coast, it's a must-visit destination for anyone who loves dinosaurs! The immersive Lost Kingdom contains four acres of Jurassic landscape, with two family rollercoaster rides, an adventure play park and a Jeep exhibition. Here's hoping they don't escape...
Tickets for Paultons start at around £35.75. Children under 1m tall go free.
paultonspark.co.uk
What are you waiting for?
Wherever you decide, SMC Coach Hire are on hand to help with your transport requirements. With vehicles ranging from 8-75 seats at competitive prices, our availability is quickly filling up so be sure to
request a free quote today.