The Benefits of Hiring a Coach to a Festival
Published 26th May 2023
It finally feels like summer is here, which can only mean one thing… the festival season is upon us. If you're lucky enough to be dancing in fields with your friends this summer, you probably purchased your festival ticket a while ago and might not have thought about how you're actually going to get to the festival yet. 
Therefore, now is the perfect time to book your transport to
ensure you get to and from the festival with no hiccups.
Now there are a couple different methods of transport you could use to get yourself there.
You could consider driving to the festival, but this comes with many difficulties. The need for a designated driver, route planning and paying for parking - just to name a few. You could also consider getting the train, but this isn't feasible for all festivals and you can't rely on them not being cancelled or delayed.
There are so many benefits that come with travelling to and from your festival this summer in a private hire coach or minibus. Some of them may be obvious to you but others you may not have thought of yet - so here's our list of the
Benefits of Hiring a Coach to a Festival
.
Cost effective travel
We all know festival tickets can be pricey. That's not to mention the money you'll spend on food and drinks over the weekend which can quickly add up, especially with how expensive festivals can be. So it's important to make savings wherever possible and choosing to travel by a private hire minibus or coach is the perfect place to start.
It may not initially strike you as a cheap method of festival transport but once you factor in all the associated costs of getting a group of people to a festival all via cars, taxis or the train, the cost per person of hiring a minibus or coach looks very attractive indeed.
Plenty of storage space
One of the main perks of hiring a minibus or coach to a festival is the amount of storage space that's available in the vehicle. Once you pack your tent, sleeping bag, camping chair, spare clothes, food and drinks, you suddenly have a very full and heavy bag - and so do all your friends.
No more struggling to cram everyone's bags into the back of a small car. Instead, all our coaches and minibus are equipped with ample storage space meaning there's more than enough room for you and your luggage to travel together in peace.
Zero stress, zero hassle
Once you factor in planning your route, sorting out parking arrangements and preparing your car for the journey, driving to a festival can be stressful and requires a lot of effort to guarantee everything runs smoothly. Take all the stress away by simply making an enquiry - either online or over the phone - and leaving the rest to us, giving you more time to look forward to your festival.
Personalised pick up points
Don't worry if you can't decide on a mutual pick up point for all your group. When travelling with SMC Coach Hire, we give you the ability to choose your own pick up points from multiple destinations. You could agree on a couple different locations that work with the entire group, or, you could even have every group member picked up from their front door!
Custom arrival and departure times to the festival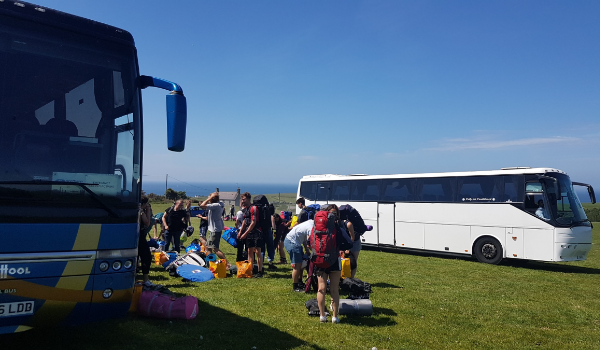 Not only can you select your own pick up points, but you also have full control over what time you arrive at the festival. But more importantly, you have full control over what time you get picked up from the festival on your way home. Whether you want to get away on Sunday night or would prefer to stay a little longer and leave late Monday morning, the choice is yours.
Eco friendly transport
Although travel is an essential component to any festival, unfortunately, it contributes between 60% - 80% to the event's overall carbon footprint. Opting to hire a minibus or coach to get you and your group to your festival is the perfect way to help reduce the carbon footprint of the festival.
Coaches are designed to be fuel efficient and can carry a large number of people in a single journey. This means the number of vehicles on the road will be significantly reduced compared to if all your group travelled in separate vehicles, ultimately reducing the overall carbon emissions generated by transport to the festival.
Furthermore, we also offer our customers the option to balance their carbon emissions through donations to one of our partner charities, ecolibrium. ecolibrium proudly channels our donations into multiple climate action projects worldwide to balance the emissions generated by customer journeys. Find out more about all the amazing work ecolibrium does here.
Safety
A benefit of hiring a coach or minibus to a festival that is often overlooked is the increased safety that it provides for all passengers. All our coaches and minibuses come with professional drivers who have had specialist training to ensure all passengers are transported to the final destination as safely as possible.
Also, our vehicles and drivers come from our local depots around the country meaning they'll be local to the area and familiar with the roads. This will be even more important when you're coming back from the festival and all feeling slightly worse for wear!
Book your festival coach or minibus
Thinking of booking transport for your festival this summer? We've got you covered, enquire here to get your free personalised quote.
Find out more about our range of vehicles on offer here.